Make Money Selling Online Courses
Make Money Selling Online Courses
One area that has experienced tremendous expansion recently is the creation and sale of online courses for profit. The global eLearning industry is anticipated to expand from less than $200 billion in 2019 to $375 billion by 2026, indicating an extraordinarily high and rising demand for authentic and reliable courses.
Take this
Python course
 that has nearly a million enrolled students, for example: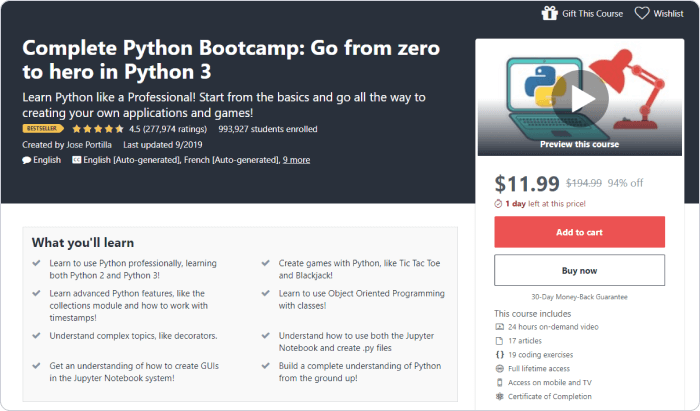 The cost is $11.99. Even if half of the enrolled students bought the course at its current price, the course would have made more than $5 million and the instructor would have made almost $2.5 million, even though not all of the students are paid (some receive free coupons). It's not awful if 19 articles and 24 hours of video content can bring in $2.5 million, is it? Additionally, the course was recently updated in September 2019; it is 100% passive income.
This is only one illustration. In truth, there is a huge market for selling courses, and there are eager consumers searching for high-caliber courses to improve their skills so they can succeed in their careers and personal development.
This guideline will teach you how to start a business selling courses online. This practical guide is for you if you're new to all of this and are unsure of where to start. Let's first examine the reasons why offering courses can be a successful business.
What Makes the Business of Selling Courses Such a Vast Market?
One of the better examples is the Tomi Mester case study. Exactly how he quit his full-time job and developed the first online course that now earns him more than $10,000 per month was fully disclosed.
In the first week of his marketing course, Nick Stephenson made $130,208. John Omar's skills in iOS app programming earned him $1 million in a single year.
As you can see, selling online courses to earn money is a very successful business strategy. If you are unsure of why people will purchase your course, think about this…
In the US, student loan debt will reach $1.56 trillion in 2020. The average student loan debt is $32,731 and there are over 45 million debtors. Students and workers are looking for alternatives as a result of the high expense of education.
A breakthrough has been made in digital education. At least one eLearning course is taken by 33% of college students. Why? Because it's more affordable and they learn five times as much as they would in a traditional college course.
Additionally, businesses are heavily relying on Web-based courses to train their employees, not just students. According to research, doing so increases revenue for firms and improves worker efficiency and production.
Of course the market for producing and marketing online courses is expanding. The best thing is that earning money in this manner is not simply a one-time assignment; it is a fully developed business plan. In addition to creating a passive income stream, you have the opportunity to interact with your students and offer them upgrades and more challenging courses.
A Tutorial for Selling Courses and Earning Money 💵
The step-by-step guide below will show you how to start and what steps to follow to create and launch a course and receive your first payment.
Step 1: Create an online Course
Your content is the main product of your company, thus it must be valuable and helpful if you want it to succeed.
The first step in developing a course is to pinpoint a particular market niche. Identify a problem that your target audience is dealing with to do this. What issue will your course help to tackle, you could ask?
Assume for the moment that you are interested in developing a course in customer success management and work in the customer service industry. You can start by examining current courses in this field (ideally best-sellers) and determining what is lacking from them. Here is the course description for an Udemy bestseller:
 
Although it has a lot of useful information, it is missing certain crucial components, like case studies, a methodology for measuring customer success, advice on how to become a better customer success manager, and checklists. Using your experience, you can improve your course and give your students even more benefit.
As you can see from the example, you must conduct study to identify an issue in your region. Visit markets to find out what content your rivals are providing, spot any gaps, and develop a superior course that offers students more value.
Examining the following points will help you decide on your course's topic and content in other ways:
current events and problems in your field
surveys and interviews with students
Google trends Experts in the field
After selecting a subject, you need to put your course together, which include creating a good outline, writing a script, gathering images and media, recording, editing, and more. You can compile the content you already have for your course using a course authoring toolkit like iSpring Suite, or you can develop it directly on the selling platform using its native editing capabilities.
The area of course development calls for specialized understanding. You may find a ton of instructions on the Internet to help you fully comprehend the procedure. The following are a few crucial elements of course creation that you should give priority to at this time:
Make sure there is a need for your proposed course.
To make your course engaging and informative, decide who your target audience is and learn about them.
Focusing on the course's advantages can help you create concise and interesting learning objectives.
Create the course's written and graphic materials.
The subject matter, material, and learning objectives must be consistent. No deviation of any type should exist.
For creating courses, make use of the proper resources and tools.
Also, check out this online course for more details.
STEP 2: CREATE AN ONLINE COURSE
A platform for selling online courses facilitates the hosting, delivery, and sale of your course to customers and handles all aspects of its creation, including marketing, payment processing, and more.
There are several selling platforms out there to choose from. Three popular ones are iSpring Market, Udemy, and Thinkific.
How to choose the right course selling platform
Answering the following queries can help you decide if you're still unsure about which selling platform to use:
Do you want to launch your course ASAP or are you ready to invest more time in how to deal with a complex platform and get a highly customized marketplace site?
Are you going to create engaging interactive courses or assemble simple courses from text and graphics right on the platform?
Do you already have a website and want to integrate it with your marketplace for a seamless brand experience?
Are sales process tools necessary for you to collect more leads and prospects?
Do you want to get all the details about users' learning activity to see how they like your course and if it should be improved?
STEP 3: Advertise your program
It's possible that simply listing your course on a marketplace won't result in sales. You must vigorously market it. Here are some of the top strategies for marketing your course so that you can start earning money from it right now.
Create a blog if you don't already have one, perhaps using the WordPress platform. It enhances your reputation while assisting you in generating a ton of targeted traffic.
Start publishing SEO-optimized content about your course topic once your site is up and running. Google will soon start sending natural traffic to your blog. Every visitor to your post is a potential student, so once you start receiving visits, marketing your course will be a breeze.
The most crucial thing here is that you need to consistently produce blogs with genuinely valuable information.
Create a mailing list
Due to its high level of personalization and lack of intrusion, email marketing offers the highest return on investment of any form of advertising.
The largest source of sales comes from your email list. In order to connect and establish a relationship, you must gather the email addresses of your users. Through your blog, social networking sites, and any other medium, there are various ways to accomplish this.
One of the quickest strategies is to make your course temporarily free of charge. It will generate interest, and word-of-mouth advertising will be quite helpful.
 Make use of Social media
Considering that there are more than 3.81 billion social media users worldwide, social media is the leading source of traffic creation. With the help of popular social networking sites like Facebook, Instagram, Twitter, and LinkedIn, you can simply connect with your target audience. Make accounts, write frequently, or share your most recent blog entries, then interact with your audience.
Using social ads to direct targeted visitors to your course also makes sense. You may advertise your course on Facebook and Instagram for as little as $5 per day.
Want additional suggestions to increase sales of your online courses? click here more info .
Automate
If you want to expand your business and earn more money, you'll undoubtedly start thinking about adding new courses once you start seeing sales. Therefore, it is crucial to automate course marketing and selling so that you can concentrate on what really matters: creating new courses. You can automate these operations on some systems.
For instance, iSpring Market provides an integration with Zapier that enables you to link your marketplace with many other programs, automating your entire workflow. For instance, you can track your visitors to send them personalized email messages based on their behavior, enroll new customers in your course, and automatically add students to your marketing campaign.